Holy shit you guys!!
After four years of dreaming about
Book Expo America
, it's finally coming true! In exactly one week, we will be on an airplane headed for The Big Apple. Of the three of us, Jen is the only one who's been to NY so yeah, imagine that! BEA
and
NYC first-timers! Woot!
We have recruited
Jenna Marbles
to help us with a little demonstration of our reactions to this most momentous occasion!
First, the excited happy dance!
followed by
"OMG, this is really happening! Whatdu we do? Whatdu we do?"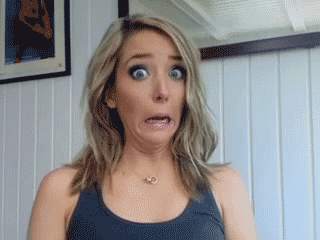 Then, "you know what?"
And soon it'll be: "What do we pack? Okay, everything we own!"
We figure this is pretty typical for BEA noobs, right?!
We've seen bunches of BEA posts from veterans with some really great advice, which we will definitely be heeding! To be perfectly honest though, it's all a bit overwhelming. We're going to cut ourselves some slack and not feel pressured to know or do EVERYTHING because, well, that's the first thing we were warned NOT to do!
I think we have the basics under control:
BEA registration √
Airfare booked √
Hotel booked √
Downloaded BEA Mobile App √
Made a list of our favorite publishers and their booth numbers √
Ordered business cards √
Started itinerary for BEA events √
I can't say we've figured out which ARCs we want to get our hands on or which signings we'll be able to attend. We'll all be happy with whatever we get!
Our goal is to spend our time on the show floor wisely and visit with our favorite publishers, favorite authors (if they're available), and favorite blogger pals! We've also been fortunate enough to be invited to some awesome events
[insert happy dance]
so we'll get also get to do a bit o' hobnobbing with the who's who of the book world!
So can we look forward to meeting you there, too? Any other first timers?
Let us know because we need to start a "WHO GETS HUGS" LIST :)